About this Recipe
I love using veggies as vehicles of flavor. For dipping, for topping… even for turning into pizzas! I'm always looking for inventive ways to use what I have in the kitchen, and when I discovered that eggplant worked as a pizza "crust," I had to give it a try. It was a hit for everyone – kids included!
The best part? You just need eight ingredients and 30 minutes. Try them for your next game-day appetizer or fun afternoon snack!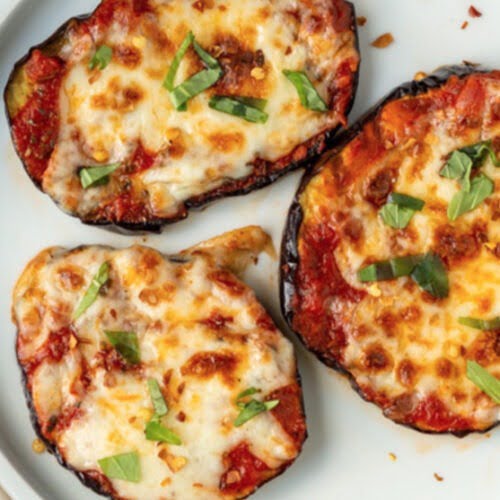 Mini Eggplant Pizzas
Ingredients
1

Eggplant medium

1/4

cup

Extra Virgin Olive Oil

Sea Salt & Black Pepper to taste

3/4

cup

Tomato Sauce

1/2

tsp

Oregano

4 1/3

Mozzarella Ball grated

1/2

tsp

Red Pepper Flakes optional

2

tbsps

Basil Leaves finely chopped
Instructions
Cut the eggplant into equal slices about 1/2 inch thick. Generously brush each side of the eggplant with the oil and season with sea salt and black pepper.

Heat a large non-stick pan over medium heat. Cook eggplant in batches until tender and browned about 3 to 5 minutes per side.

Meanwhile, turn the broiler on high.

Transfer the browned eggplant slices to a baking sheet and top each with tomato sauce, dried oregano and shredded cheese. Broil the eggplant pizzas for 3 to 5 minutes until the cheese is melted, bubbly and browned.

Top with red pepper flakes and fresh basil. Enjoy!