About this Recipe
If you follow me on Instagram, you know by now that quick, easy meals are a MUST for me – especially at the start of a packed work day. However, I also want something I can truly enjoy (and take my time eating, because who wants to start off work with digestive issues?). This is how my go-to egg and avocado toast came to be!
It's SUPER simple, delicious, and especially gut-friendly. I often use homemade sourdough for mine, and here's why:
Because sourdough is made with a fermented starter, more nutrients are available to help improve your gut's microbiome. It also can provide more fiber than your average slice of bread – great for balancing blood sugar, and feeding that good gut bacteria! (NOTE: every individual processes food differently – sourdough may not be great for you personally, and that's totally okay). If you cannot tolerate sourdough (GF or regular) you can use a gluten free bread of choice or even sweet potato sliced very thinly and toasted like toast.
No matter the base of your toast, your gut will LOVE that this meal keeps your blood sugar stable and feeds it with yummy fiber (avocado has plenty of it, too).
If you want to learn more about WHY a balanced meal is essential for improving digestion, or HOW to create one yourself, I have great news: I teach my clients all about this in my gutTogether program!
If you need some guidance, let's get you on the path to constipation and bloat relief for GOOD. You can learn more about how we can work together by visiting the program page on my site. Click the button below to apply for my program – spots are limited!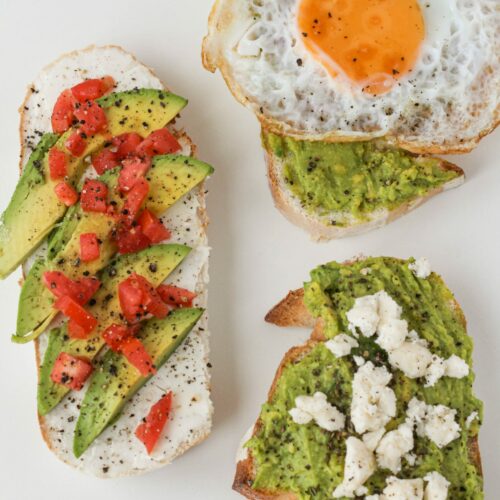 Egg and Avocado Toast
Ingredients
2

slices

homemade GF sourdough

2

eggs

cooked to preference

1/2

avocado

salt and pepper to taste

1-2

tbsp

Kite Hill cream cheese
Instructions
Toast bread.

Top bread with cream cheese and avocado.

Cook eggs to preference.

Top toasts with eggs.

Season as desired.

Enjoy!