About this Recipe
If you follow me on Instagram, you know fajita bowls and/or taco nights are always in my family's weekly rotation.
This one-pan chicken fajita recipe is quick and easy, with deliciously tender chicken and crisp veggies.
Did I mention the minimal cleanup? Yeah. This is a go-to for a reason!
I like to serve mine with toppings such as:
Cauliflower rice
Rice
Lettuce / greens
Black beans
Pico / salsa
Guac / avocado
I teach my clients to prep ahead recipes like this one and then use toppings and seasonings to add their own flare and make an easy and delicious meal! Because, let's be real – the best meals are the ones that are quick and without any measuring.
Eating a well-structured meal is key for a happy gut. It balances your blood sugar, and the fiber keeps your "good gut bugs" fed and thriving! To ensure your custom bowl has everything your gut needs, make sure it has some greens, protein, fiber/carbs, and fat.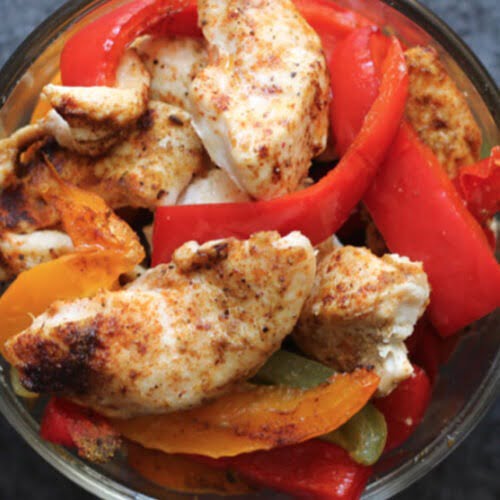 One-Pan Chicken Fajita Bowls
Ingredients
2

Red Bell Pepper sliced

1

Orange Bell Pepper sliced

1

Green Bell Pepper sliced

2

tbsp

Extra Virgin Olive Oil

1

lb

Chicken Breast

1

tbsp

Cumin

1

tbsp

Chili Powder

Sea Salt & Black Pepper to taste
Instructions
Preheat oven to 375ºF (191ºC) and line a baking sheet with parchment paper.

In a large bowl, toss the sliced bell peppers with the olive oil. Transfer to a baking sheet and add the sliced chicken breast. Sprinkle with cumin, chili powder, salt and pepper.

Bake for 30 minutes, or until chicken is cooked through.

Divide between bowls or containers. Enjoy!