About this Recipe
Looks like fancy gourmet chocolates, but are so simple, you'll think you messed something up…
These Chocolate Bites are the EASIEST treat to make for your Valentine, or just to have as a prepped snack!
All you have to do is melt some chocolate down and add your choice of festive ingredients. I opted for pomegranate seeds and almonds this time around! They truly look so fancy, no one will guess that they only took a few minutes of your time.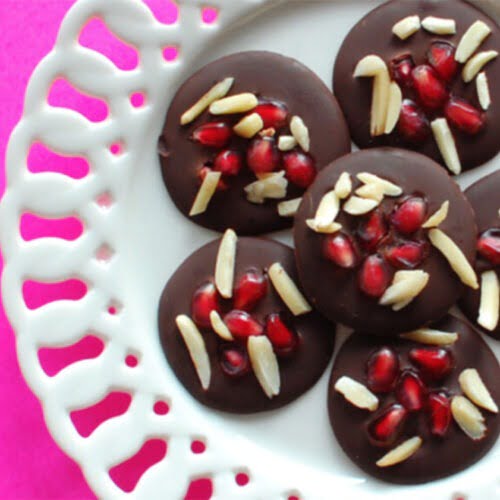 Chocolate Bites
Ingredients
3 1/2

oz

Chocolate

1/4

cup

Pomegranate Seeds

1/4

cup

Slivered Almonds
Instructions
Fill one large pot with water and place a smaller pot inside. Bring to a boil then reduce to a simmer. Ensure no water is able to get in the smaller pot.

Add the chocolate into the smaller pot and stir continuously until melted.

Spread a large piece of wax paper across your counter. Dollop a heaping teaspoon of melted chocolate onto the wax paper so it forms a circle. Repeat until all chocolate has been used up. Immediately top with pomegranate seeds and almonds (or whatever toppings you choose).

Let chocolate cool for 1 hour before peeling off of the wax paper. Arrange on a decorative plate or store in a mason jar. Enjoy!