About this Recipe
Green bean casserole has been a holiday staple for as long as I can remember. This is a twist on the traditional recipe, incorporating fresh ingredients (instead of canned), creamy cauliflower sauce and adding a delicious crunch from toasted, slivered almonds…
I love it just as much as the the original!
Don't let the "total time" fool you – this recipe really is easy, AND well worth the effort. I always end up with leftover sauce, perfect to add to lunches/dinners! We all know the best part of the holidays is the leftovers.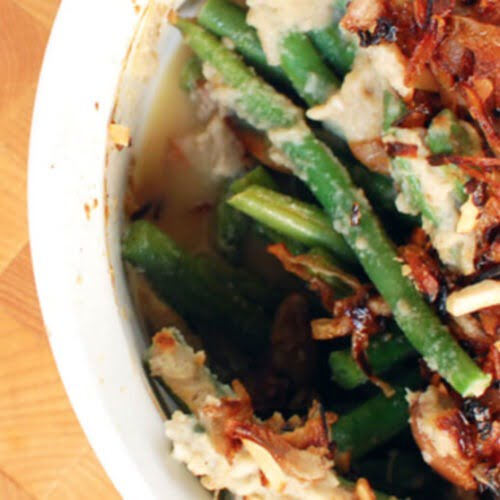 Green Bean Casserole
Ingredients
2

tbsp

Coconut Oil divided

1 1/2

cups

French Shallot thinly sliced

1/2

heads

Cauliflower chopped into florets

5

cups

Green Beans trimmed and halved

2

cups

Mushrooms sliced

3

Garlic cloves, minced

1 1/2

cup

Water

1

tsp

Sea Salt

1

tbsp

Nutritional Yeast

1/4

cup

Slivered Almonds toasted
Instructions
Add half of the coconut oil in a large skillet and place over medium-low heat. Add your sliced shallots. Stir often to prevent burning for 30 to 40 minutes, or until caramelized. Once the onions are golden, remove from the heat, transfer into a bowl and set aside.

While the onions cook, steam your cauliflower florets in a steaming basket until softened to the point where they can be easily pierced with a fork. Transfer to your blender or food processor and set aside.

Steam your green beans for 6 to 8 minutes or until bright green. Transfer the beans into a casserole dish.

Heat the remaining coconut oil in a skillet over medium-low heat. Saute mushrooms for 5 minutes or until softened then add in the garlic. Saute for another minute and remove from heat. Spread half of this mushroom mixture over your green beans in the casserole dish. Add the remaining half to your blender with your steamed cauliflower.

Also add to the blender water, sea salt and nutritional yeast. Blend until very smooth. Be patient - it takes some time to reach a creamy consistency!

Pour desired amount of creamy cauliflower sauce into your casserole dish over the green beans and mushrooms. You might not need it all. Smooth it out with a spoon or spatula. Top with the caramelized onions.

Preheat oven to 350ºF (177ºC).

Bake the casserole in the oven for 30 minutes. Remove from oven and let sit for 5 minutes before serving. Garnish with toasted slivered almonds and enjoy!