About this Recipe
A quick and easy dinner after a busy day, with only 4 ingredients! Even faster to put together with your ingredients prepped in advance, which I often do. I love all the fun combinations you can make with spaghetti squash, and this is a great way to use leftovers like lentils, ground turkey, ground chicken, etc.
Easy, throw-together meals help me to stay fueled throughout the week and decreases stress (and dishes ?) overall. Something we teach our gutTogether clients is to have simple ingredients on hand, and mix and match throughout the week! If you prep even just the spaghetti squash in advance, you can create a million delicious meal combinations that will last you for days.
This recipe is also great at providing the diverse variety of foods your gut craves. Remember, it's often NOT about restricting your diet, but rather expanding it when trying to improve your bloat and/or constipation.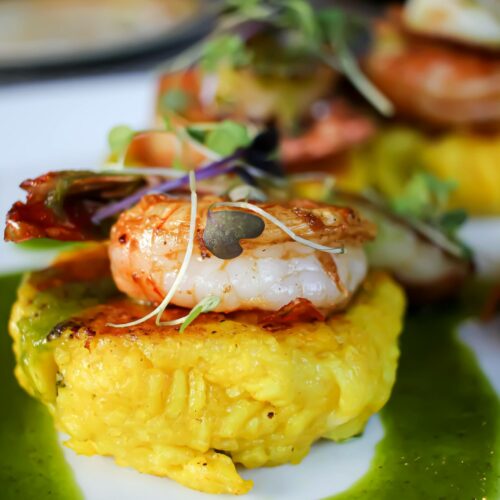 One-Pot Herb + Shrimp Risoni
Ingredients
1

tbsp

Extra Virgin Olive Oil

1/4

Yellow Onion medium, chopped

2

Garlic cloves, minced

1/2

cup

Trader Joe's risoni dry

3/4

cup

Asparagus trimmed, cut into bite-sized pieces

Sea Salt & Black Pepper to taste

8

oz

Shrimp peeled, deveined

1/2

Lemon juiced and zested

2

tbsp

Parsley chopped
Instructions
Heat a dutch oven over medium heat and add the oil. Once hot, add the onion and sauté until softened, about three to five minutes. Add the garlic and cook for one minute, until fragrant.

Add the risoni and stir until slightly toasted, about one minute. Add the water, asparagus, and salt and pepper. Cover and cook for ten minutes, stirring occasionally.

Remove the lid, and add the shrimp. Cook for five minutes or until pink and cooked through. Add the lemon juice, zest, and parsley. Divide onto plates and enjoy!