About this Recipe
Classic stuffed peppers with ground turkey, a yummy mix of beans, corn and onion, and a side of rice makes the best easy dinner idea any night of the week.
This is one of those throw what you have in the fridge type of recipes. Use my ingredients as guidelines but definitely have fun experimenting!
Two tips to keep the peppers standing when cooking
Fit the peppers snugly in the baking dish.
Trim the bottom of each pepper so it stands evenly.
Did I mention these are freezer-friendly? Store in a freezer-safe container in the freezer for up to 3 months! Freeze in individual servings to take to work for lunch or pull out for a quick dinner.
Eating a well-structured meal like this is key for a happy gut. It balances your blood sugar, and the fiber from the veggies, beans and rice keep your "good gut bugs" fed and thriving! Meal prep and cooking does not have to be complicated – having a plan makes it easier.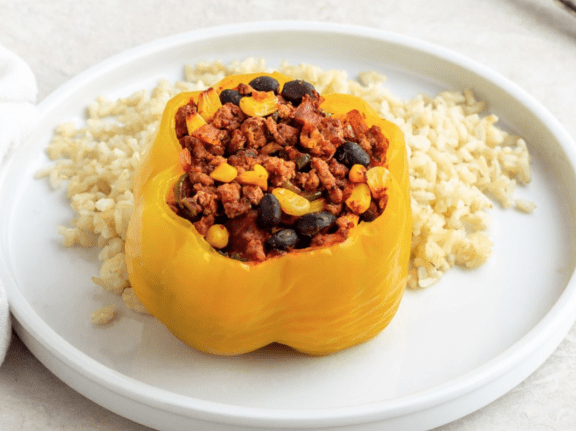 Southwest Stuffed Peppers
Ingredients
1/3

cup

water

1

lb

Extra Lean Ground Turkey

1/2

Yellow Onion (medium, chopped)

1

Jalapeno Pepper (medium, seeds removed, finely chopped)

2

Garlic Cloves (minced)

2

tbsp

Taco Seasoning

1/2

cup

Black Beans (cooked, rinsed)

1/2

cup

Frozen Corn (thawed)

1

cup

Salsa

4

Yellow Bell Peppers (tops, seeds & ribs removed)

3/4

Brown Rice
Instructions
Preheat the oven to 350ºF (176ºC) and add the water to a baking dish just large enough to fit the peppers.

Heat a pan over medium-high heat. Brown the turkey in the pan, breaking it up as it cooks, about five minutes. Add the onion and jalapeno and cook for three to five minutes more or until the onion begins to soften. Add the garlic and taco seasoning and cook for another minute. Add the black beans, corn, and salsa to the pan and stir to combine.

Stuff the peppers with the turkey filling. Place the peppers so that they are standing upright in the prepared baking dish. (Note: use balled-up aluminum foil to support them if needed). Cover with foil or a lid and bake for 45 to 50 minutes or until the peppers are very tender.

Meanwhile, cook the rice according to package directions. To serve, divide the peppers and rice between plates and enjoy!