About this Recipe
This recipe is a special one. I created it for class when I was working on my doctorate in clinical nutrition.
My Cinna-brain Bars are still a go-to, because they're such a delicious, easy-to-prep snack. Where'd they get the name? The cognitive benefits of ingredients like walnuts, almonds, pecans, dark chocolate, and cinnamon!
This fun snippet from my original class submission breaks it down: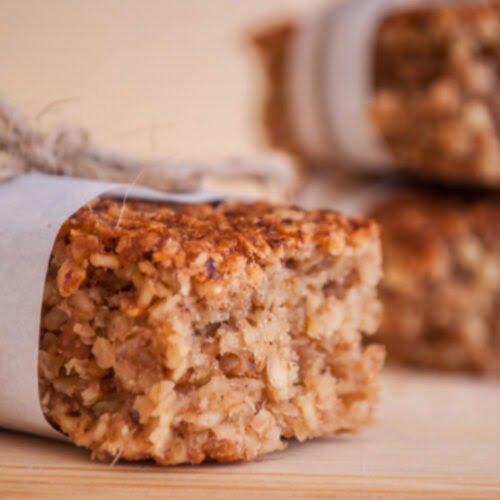 Cinna-brain Bars
Ingredients
1/2

cup

raw, unfiltered honey

1/2

cup

natural almond butter

2

tbsp

coconut oil

1

tsp

pure vanilla extract

2

tbsp

cinnamon

3/4

cup

raw pecan halves

3/4

cup

raw walnuts

1/2

cup

raw almonds

5

large

pitted dates soaked in warm water for 15 mins

1/4

cup

shredded, unsweetened coconut

1/4

cup

dried cranberries (optional)

1/2

cup

dark chocolate pieces (optional)
Instructions
Place the honey, almond butter, oil, vanilla, and cinnamon in a saucepan over medium heat. Bring to a boil, then lower heat and simmer for 15 minutes.

Meanwhile, place the pecans, walnuts, almonds and dates in the food processor and process until the mixture resembles coarse sand. Add the coconut, pulse a few times to combine.

Remove the honey mixture from the stove, and stir in the nut mixture. Add the raisins, cranberries and dark chocolate, if desired.

Spoon the mixture into the baking dish, spreading it across the pan.

Use a large piece of parchment paper to press the mixture evenly across the pan. Pack tightly.

Remove the parchment paper and place the dish in the freezer for 2 hours.

Remove from the freezer and cut evenly into 12 rectangular bars. Store in the refrigerator.